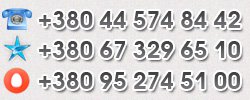 Security and escort of cargo
Security and escort of cargo is one of the activities of our Association. Our guards will ensure the safety of your goods in transit through the territory of Ukraine. We have accumulated rich experience of protection of both automobile and railroad transport. Escort of cargoes is ensured by guards who have passed a special training. During cargo escort, our employees are equipped with all the necessary equipment to perform the tasks. Prior to departure, the optimum route is developed based on the location of traffic police stations, service stations, gas stations, settlements, parking areas or stations, etc. The detailed instruction on protection of the escorted cargo is written from the moment of acceptance of material assets for protection until their delivery.
Prices for services of security and escort of cargo:
Cargo with transportation by railroad
On the territory of Ukraine
15 UAH for one person per 1 km
Protection and escort of cargo with transportation by automobile transport and using an escort vehicle,
which are provides by the customer:
On the territory of Ukraine
20 UAH for one person per 1 km
Additional charge for transportation of guards to the goods receiving site and their accommodation (including meals).
Using escort vehicles and crew (driver, 2 guards) provided by the Contractor, the cost of one car escort is:
On the territory of Ukraine
20 UAH per one car/km for 1 guard, driver.
Car rent for 24 hours
300 UAH
The cost of gasoline is paid additionally.